128GB Raspberry Pi Approved MakerDisk uSD with RPi OS
Note: MakerDisk MicroSD cards (128GB, 64GB, 32GB) shipped from 11 Nov 2021 onwards are loaded with the latest Raspberry Pi OS – Bullseye (release date: 30th October 2021).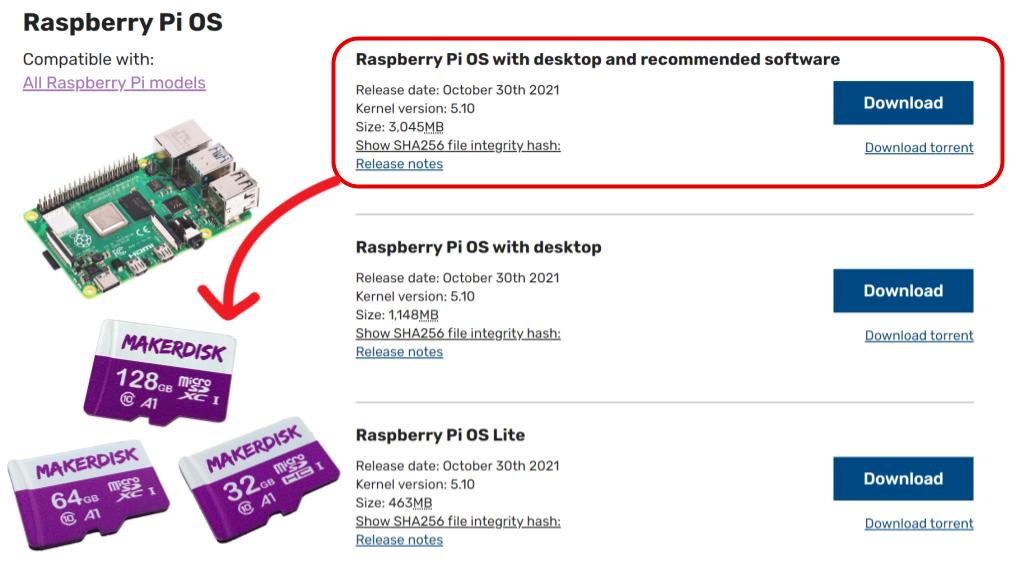 Note: The MakerDisk microSD card has been TESTED and APPROVED by the Raspberry Pi Foundation for use with Raspberry Pi Products.
Note: The MakerDisk microSD card comes Pre-loaded with Raspberry Pi OS and is ready to boot up on any Raspberry Pi computer. Please DO NOT format it if you intend to use it with the Raspberry Pi board.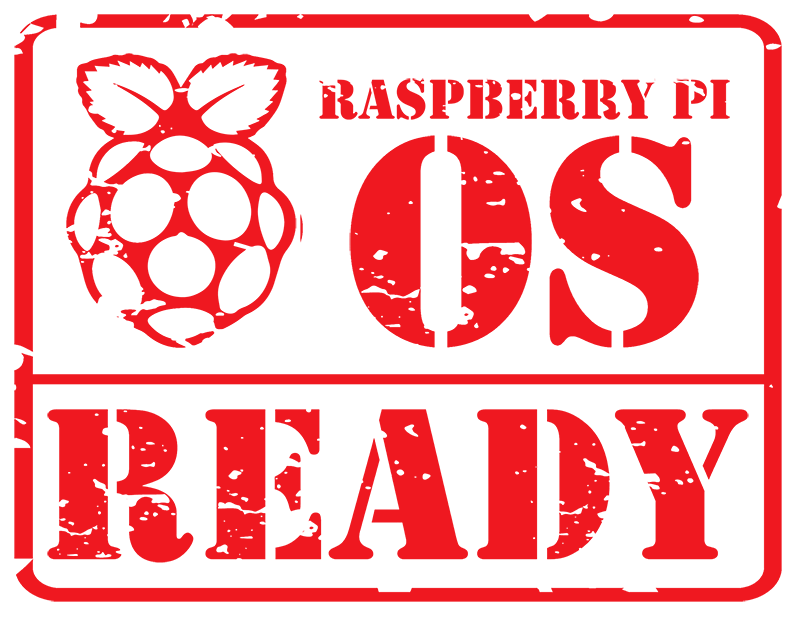 Note: There are 128GB, 64GB, and 32GB of capacity, please select your preferred memory size.
---
There are three memory sizes (please select the preferred size):
All MakerDisk MicroSD cards are Pre-loaded with Raspberry Pi OS.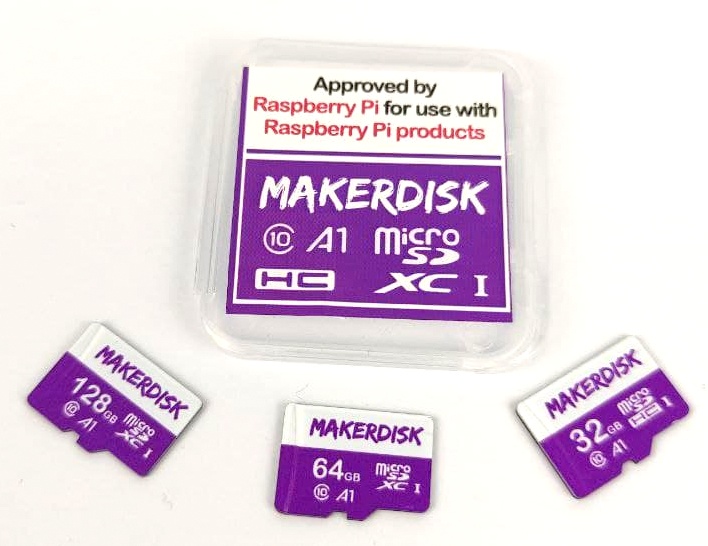 Note: The video shows 32GB MakerDisk, the method is the same for all memory sizes of MakerDisk microSD cards.
Check out the reviews by leespsvideo on MakerDisk microSD cards:
We have also performed the writing and reading speed diagnosis and the results exceed the requirement needed for Class A1 and also the specifications by the Raspberry Pi Foundation. So we are confident to recommend this microSD to you 🙂 For example, here is the diagnostics test for the 128GB MakerDisk microSD card: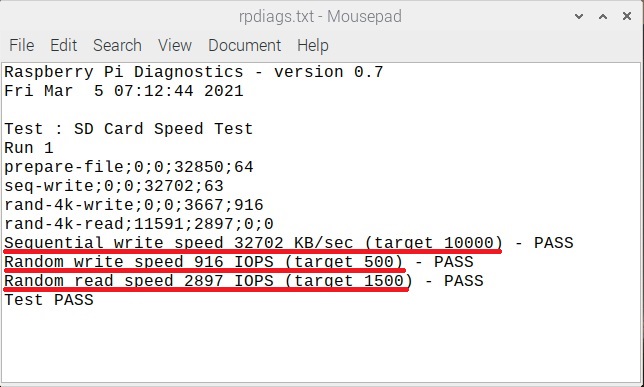 Many Raspberry Pi users have a common doubt: What type of microSD card is best for Raspberry Pi? Well, we have been asking the same question since day 1:) Now, let's trust the Raspberry Pi team which is the designer and producer of Raspberry Pi. They recommend Class A1 because of the characteristic of Raspberry Pi accessing the memory on the microSD card. The random read and write speed is critical. For details of Class A1, please refer to here.
"But more and more, memory cards are being used to extend the memory of devices that run apps. Devices like smartphones and mobile gaming consoles. The apps that run on these devices interact with memory space differently. Rather than a stream of sequential data, they want to write a lot of small chunks of data wherever there's space available. That's known as random read/write (compared to sequential read/write that's important for video)." which Raspberry Pi falls into, the operating system will need to read/write data from/to the microSD card in random access.
Besides the access speed tests, the MakerDisk microSD card also went through a special lifespan test by Raspberry Pi Foundation. Here is the methodology:
"Each card under test is loaded with a custom image containing up-to-date Buster (Raspberry Pi OS) image, automated stress test scripts and a local website to be accessed using Google Puppeteer automation. The host Raspberry Pi 4 Model B is powered by a custom PSU allowing the 5V1 input power to be cut as required. Up to fifty of these RPis can be run in a self-contained soak/stress rig.
On power up the RPi boots the image and autoruns a python-based test script. It first loads the standard Raspberry Pi Diagnostics test and logs the output to both the microSD card under test and optionally a plugged-in USB memory stick. During this operation, the PSU status indicator is held on constantly. Once this test has been completed a random power-on time is set (between 60 and 300 seconds). This number is also logged to a second file so both the number of reboots and total run time can be determined later on. The MicroSD card is now exercised both by Google Puppeteer accessing multiple web pages from the Card and also a separate script creating, copying, and deleting multiple random length files. The PSU status indicator flashes twice a second during this time. Failed MicroSD cards can be quickly noted by the absence of this indicator light showing the RPi has failed to successfully boot from the card.
The MicroSD card activity above continues as the power is cut. Power is held off for a second, the Pi reboots and the process starts again."
MakerDisk MicroSD cards have gone through another round of re-certification by Raspberry Pi. And this round, the MakerDisk went through more power interrupt cycles, up to 5,500, and at the end of the test, they are still offering very good speed test results! Superb!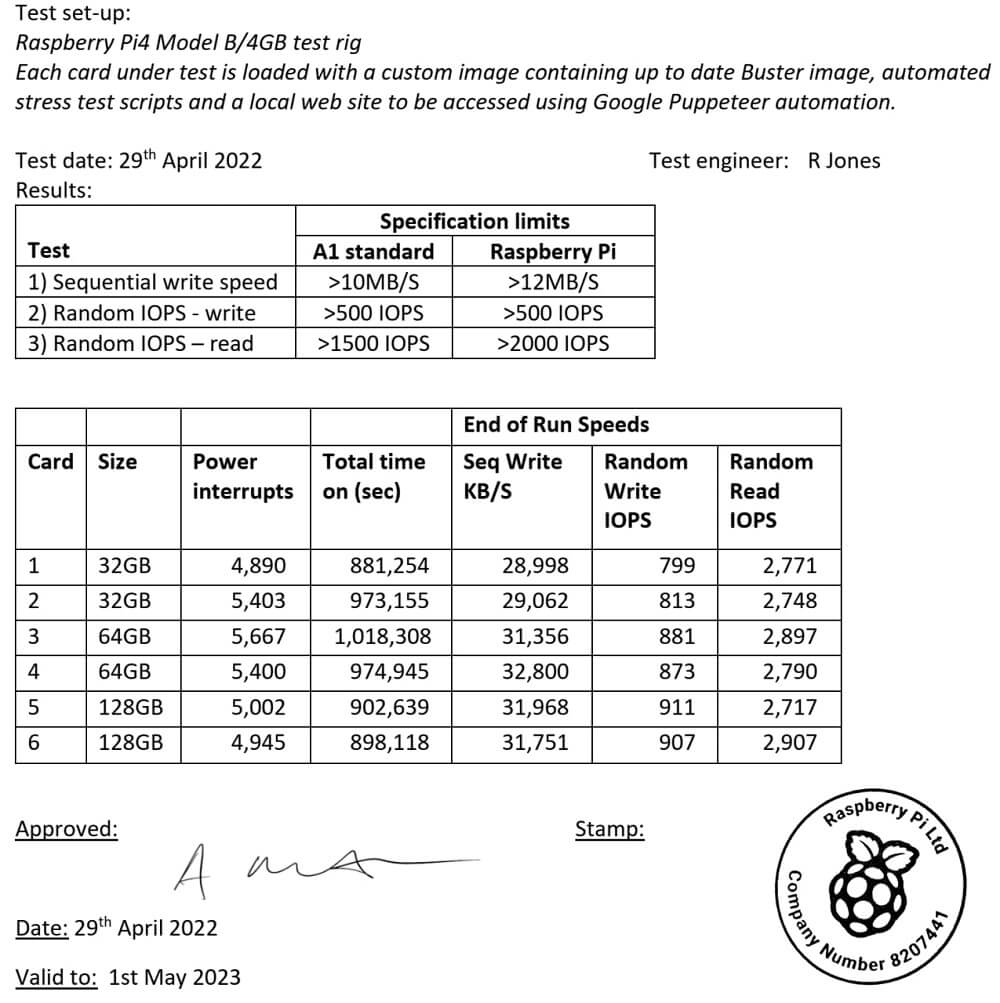 This MakerDisk microSD card comes straight from the factory and it is pre-loaded with Raspberry Pi OS, so it can boot up on all Raspberry Pi computers right out of the box. Please DO NOT format it. If you want to load other Operating Systems, we would recommend getting the Raspberry Pi Imager and choosing the preferred Operating System.
This MicroSD card is compatible with: (Raspberry Pi OS)
Note: In case you need a USB microSD card reader/writer, get it from here.
Features:
Raspberry Pi Tested and Approved for use with Raspberry Pi Products
A microSD card from Makers to Makers!
Brand: MakerDisk
Capacity/Size: 128GB, 64GB or 32GB

1GB = 1,000,000,000 bytes.
Actual usable capacity may be less, depending on the format. From Raspberry Pi OS, here is the capacity from file explorer, excluding the boot drive:

128GB MakerDisk microSD: it is ~ 114.8GB
64GB MakerDisk microSD: it is ~ 56.9GB
32GB MakerDisk microSD: it is ~ 28.2GB

Check the capacity calculation from Wiki.

Pre-loaded with Raspberry Pi OS, it is ready to boot up on any Raspberry Pi board right out of the box!

11 November 2021 onwards, the latest Raspberry Pi OS – Bullseye, 3.1GB, (release: 30th Oct 2021) is preloaded

The test results are better than Class A1 and Raspberry Pi Standards:

128GB MicroSD:

Sequential Write: > 32MB/S (A1 Standard 10MB/S, Raspberry Pi Standard 12MB/S)
Random IOPS – Write: > 900 IOPS (A1 standard 500 IOPS, Raspberry Pi Standard 500 IOPS)
Random IOPS – Read: > 2800 IOPS (A1 standard 1500 IOPS, Raspberry Pi Standard 2000 IOPS)
Class 10, A1, U3, V30 microSD card

64GB MicroSD:

Sequential Write: > 32MB/S (A1 Standard 10MB/S, Raspberry Pi Standard 12MB/S)
Random IOPS – Write: > 800 IOPS (A1 standard 500 IOPS, Raspberry Pi Standard 500 IOPS)
Random IOPS – Read: > 2700 IOPS (A1 standard 1500 IOPS, Raspberry Pi Standard 2000 IOPS)
Class 10, A1, U3, V30 microSD card

32GB MicroSD:

Sequential Write: > 27MB/S (A1 Standard 10MB/S, Raspberry Pi Standard 12MB/S)
Random IOPS – Write: > 800 IOPS (A1 standard 500 IOPS, Raspberry Pi Standard 500 IOPS)
Random IOPS – Read: > 2700 IOPS (A1 standard 1500 IOPS, Raspberry Pi Standard 2000 IOPS)
Class 10, A1, U1, V10 microSD card
In any case, you can always reload the image/Operating System into this microSD card using a USB microSD Card Reader/Writer, we recommend using the official imager: Raspberry Pi Imager. Please check this video out on how to use the Advance features:
Packing List (Depends on selection):
1 x 128GB Raspberry Pi Approved MakerDisk MicroSD with Raspberry Pi OS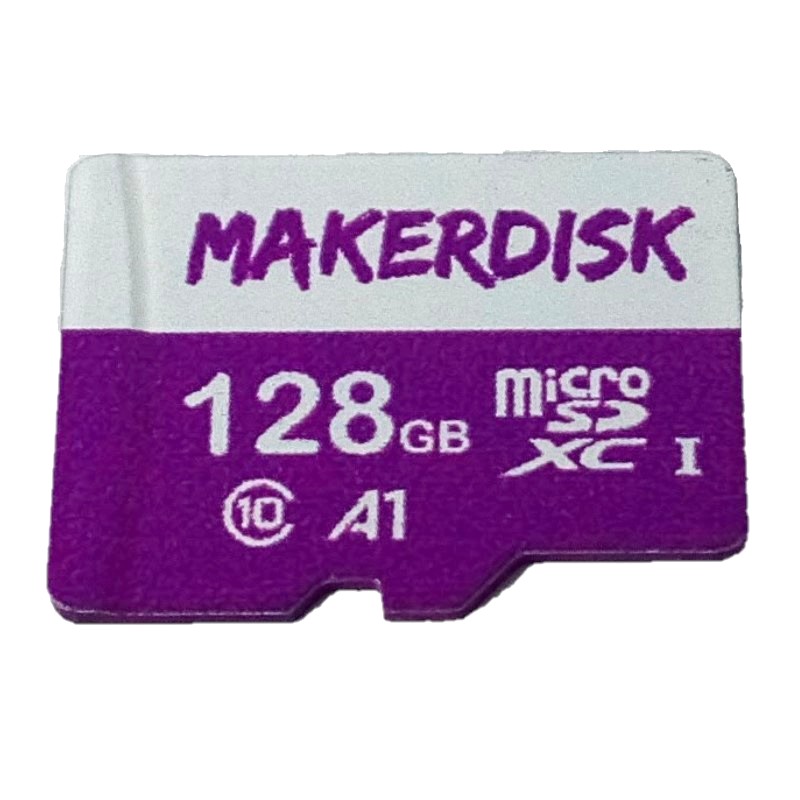 1 x 64GB Raspberry Pi Approved MakerDisk MicroSD with Raspberry Pi OS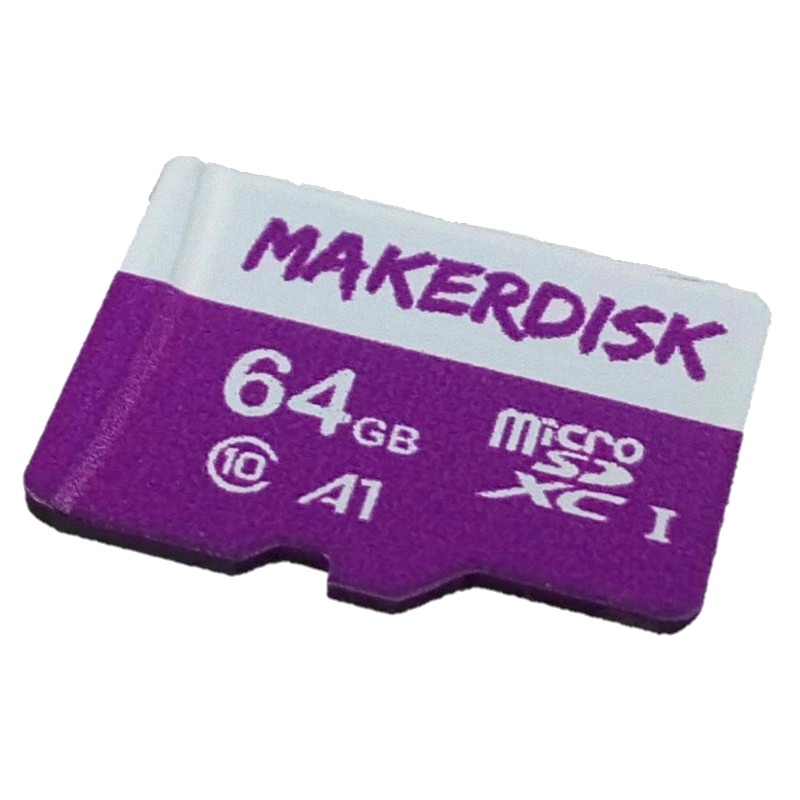 1 x 32GB Raspberry Pi Approved MakerDisk MicroSD with Raspberry Pi OS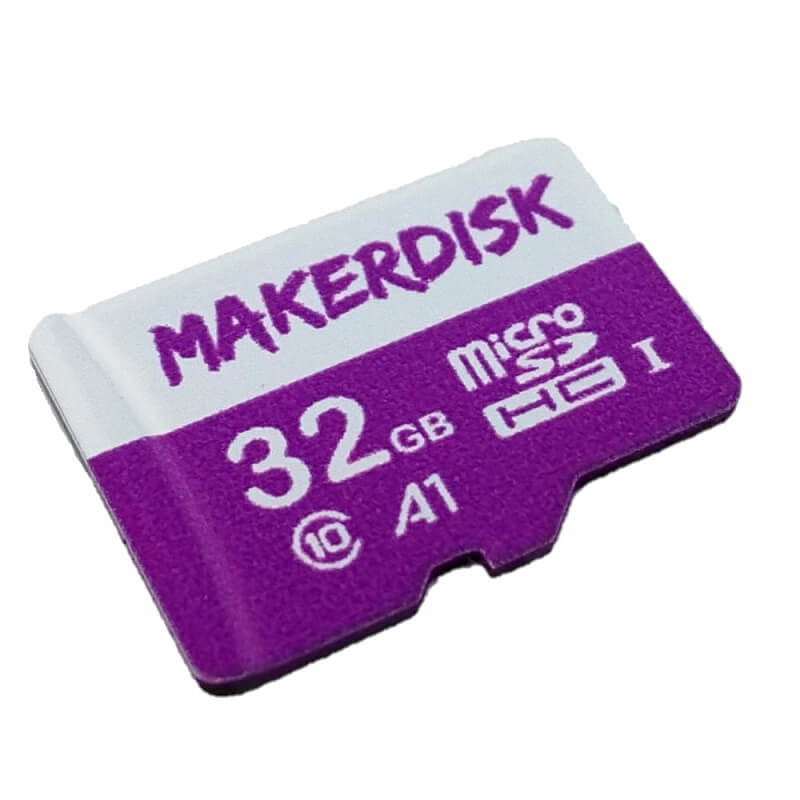 Resources: