ZOOM:BIT Robot Car Kit for micro:bit (without micro:bit)
Looking for a solution to introduce robotics and coding to your kids? Get this kit for them (or yourself!) to build this cute micro:bit robot car. Zip zip Zoom!
---
Note 1  This product does NOT include the micro:bit board. You may consider this ZOOM:BIT variant which comes with the micro:bit V2 board.
Note 2  Get a Grove Buzzer module if you were to use ZOOM:BIT with micro:bit V1 board (No built-in piezo buzzer). We'll program ZOOM:BIT to play melodies in chapter 2 of the booklet.
---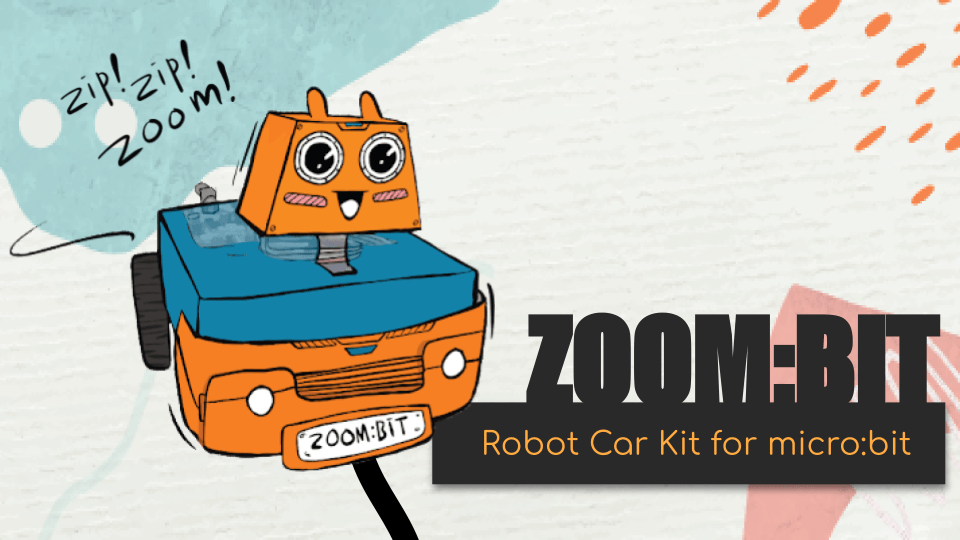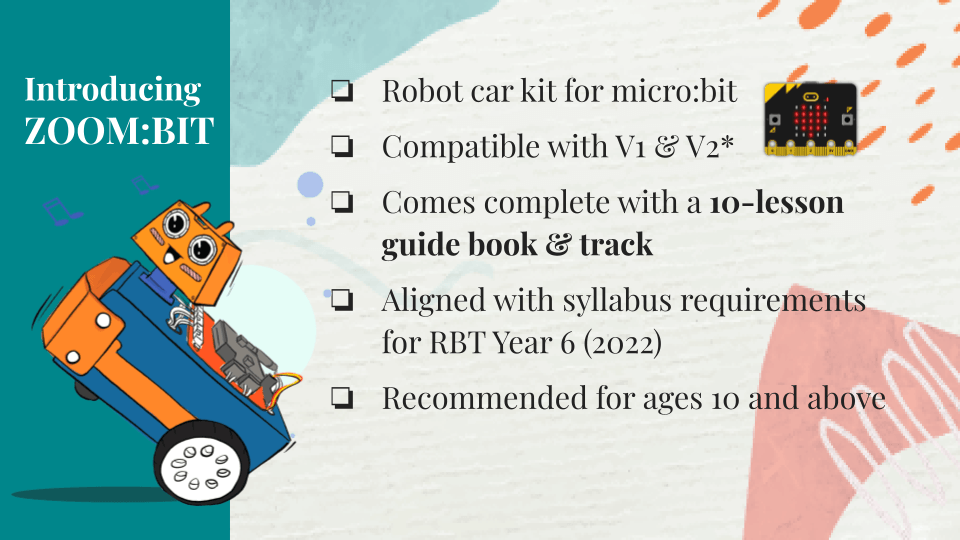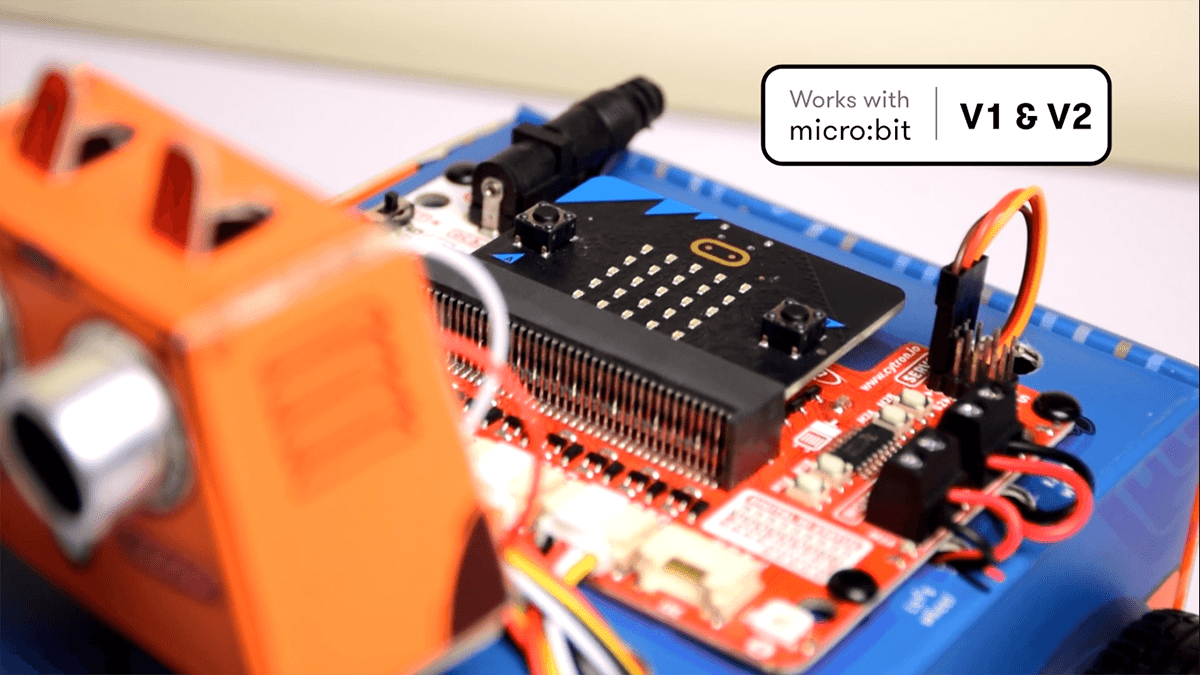 This kit comes with a step-by-step building guide written in simple language and a generous dose of graphics to help young learners to follow along. Download a PDF copy of the book here for FREE. If you prefer video tutorials, visit our Youtube playlist here.
Follow the detailed & illustrated instructions to build your own robot and explore programming basics in a fun and engaging manner.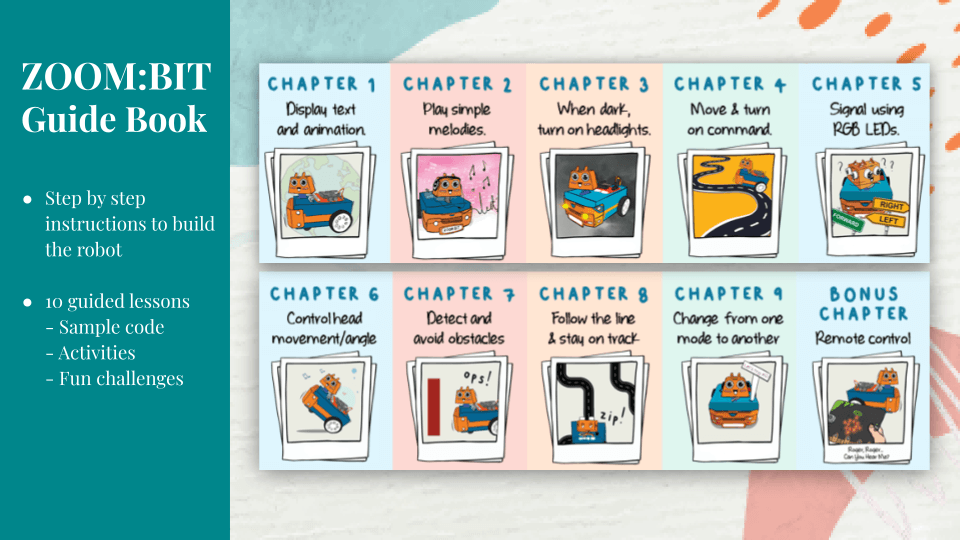 You can easily program ZOOM:BIT using open-sourced Microsoft MakeCode Editor. Just add ZOOM:BIT Extension and you're good to go. If you're a beginner, you can start with the Block programming mode; simply drag, drop and snap the coding blocks together. For more advanced users, you can easily switch into JavaScript or Python mode on MakeCode Editor for text-based programming.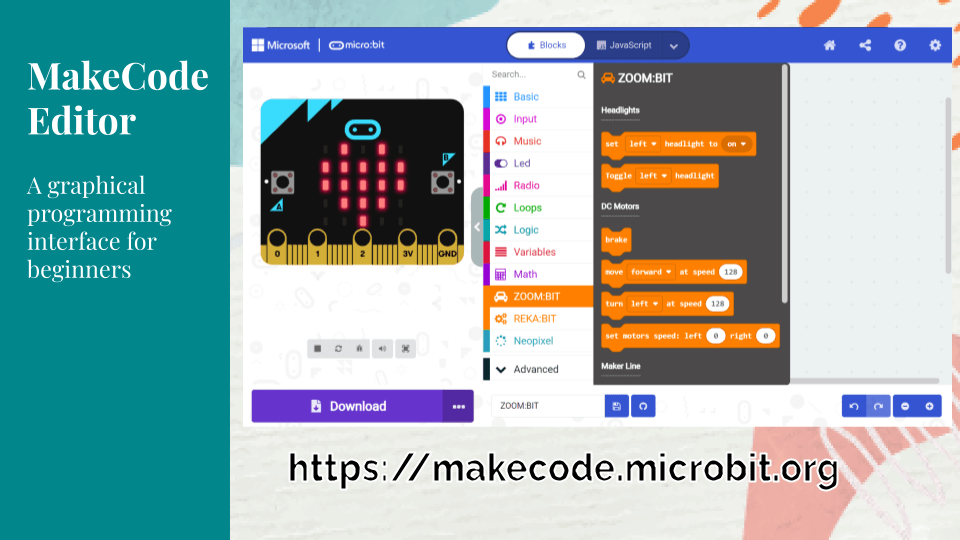 New to coding? Don't worry. This kit comes with a 10-lesson guide book, complete with sample code and helpful tips. You can also access additional resources from ZOOM:BIT Online Resource Hub. Join Telegram ZOOM:BIT Community for technical support and the latest updates.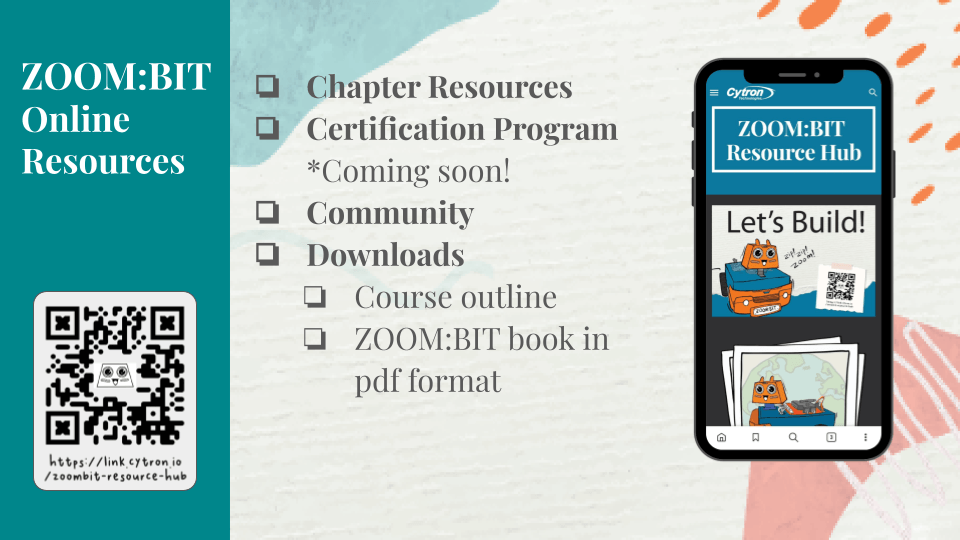 More Features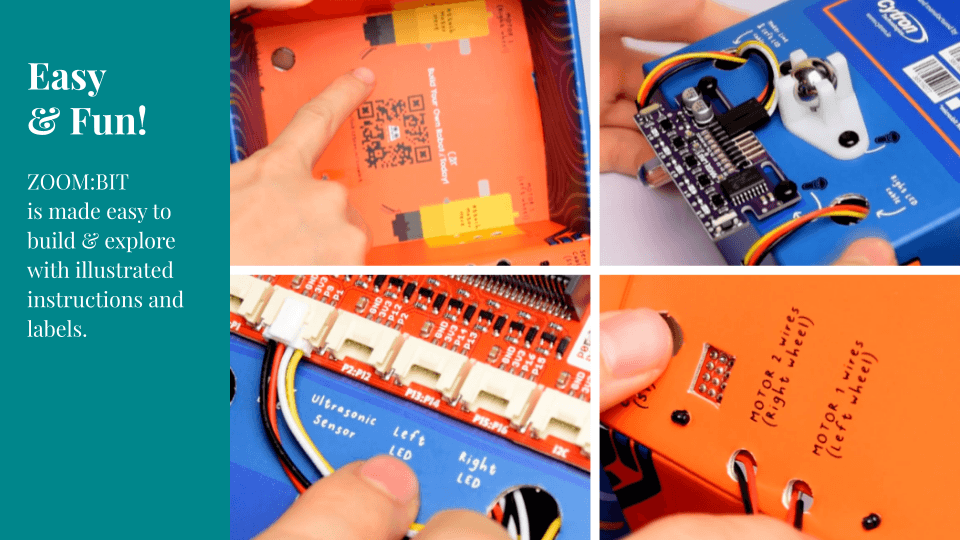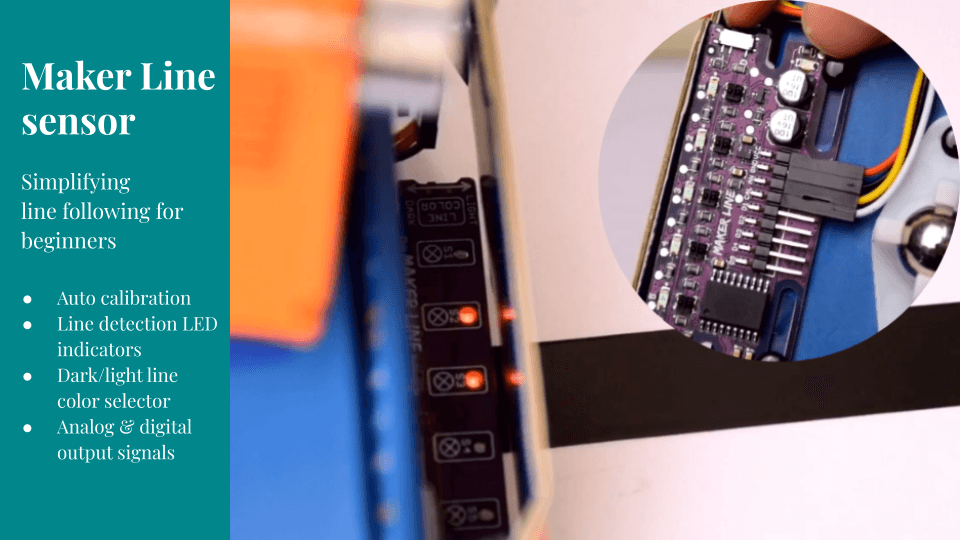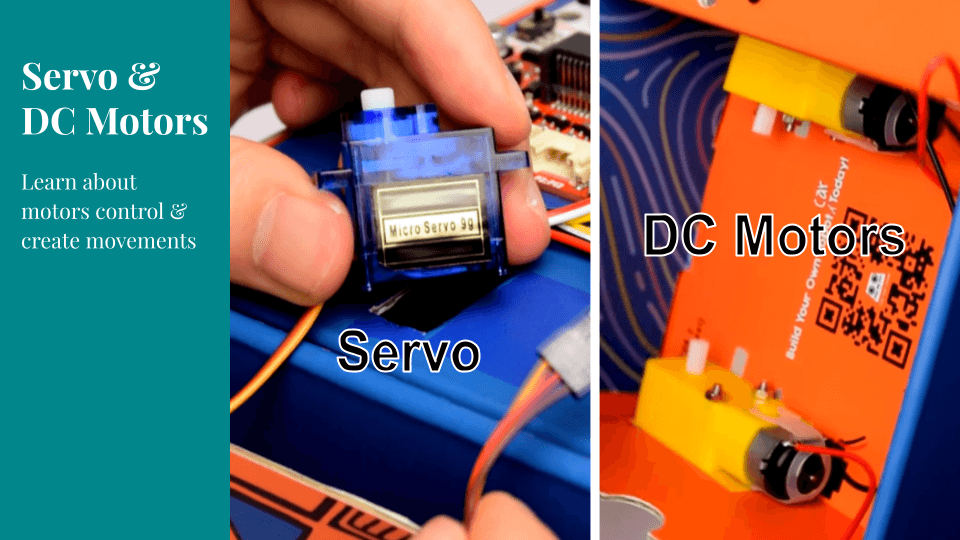 Bonus for ZOOM:BIT fans. If you are a Telegram user, grab ZOOM:BIT's sticker pack here: https://t.me/addstickers/itsZoombit. Have fun~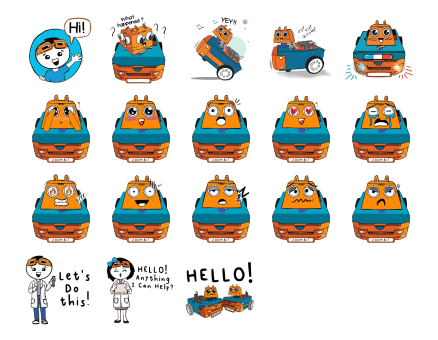 What's Included?
This kit comes with all the materials needed to complete ZOOM:BIT Robot Car, as well as a printed guide book with detailed instructions and a line following track.
Note  However, this kit does NOT come with the micro:bit board. You may consider this ZOOM:BIT variant which includes the micro:bit board.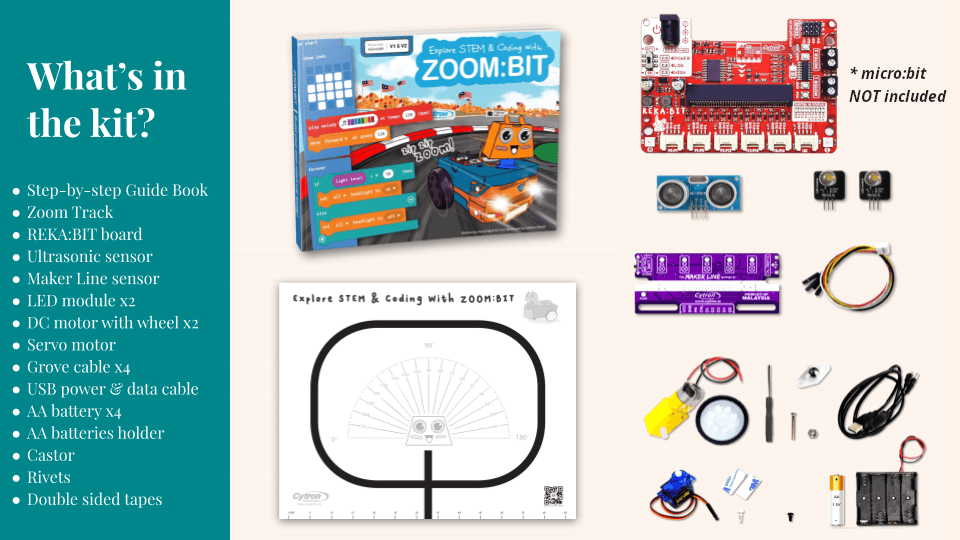 1x micro:bit board   Note  This product does NOT include a micro:bit board.
1x 9+1 lessons quick start guide book
1x Zoom track
1x Maker Line sensor
1x Ultrasonic sensor
2x 10mm LED module
2x DC motor with wheel
1x Micro servo motor
4x AA battery
1x Castor
1x Mini screwdriver
Rivets
Double-sided tapes
Resources